Main Menu | Home Page | Contents | Statutes | Products | Links | SOLUTIONS
Broadcasting the Information Revelation
<![if !supportLineBreakNewLine]>
<![endif]>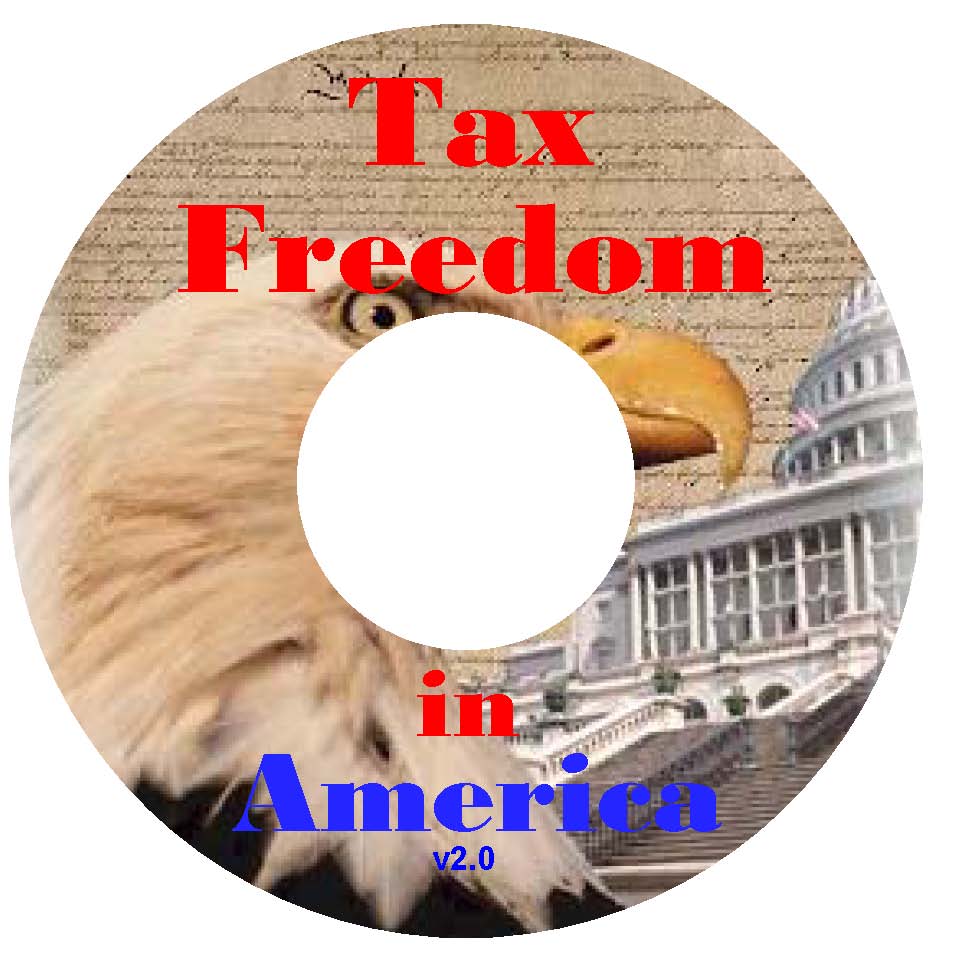 THE TAX-FREEDOM CD v2.0
The TAX-FEEDOM CD-ROM v2.0 is a comprehensive set of educational, presentation, and correspondence materials on the true nature of the American inceome and employment tax laws. It is the best tax assistance/information available in the United States of America for $100 !† †Your Satisfaction is Guaranteed !!! The CD-ROM includes:
†1.) The Tax-Freedom.com web site. (for easy access and use without need of the internet)
†2.) All 60 (more actually) of the IRS Responses and Letters used successfully to answer IRS correspondence. (sample)
including responses to Notice of Deficiency, Notice of Intent to Levy, Notice of Levy, Notice of Lien, Personal Summons, Third party Summons, Petition to Quash Summons, Examination Division Letter, Proposed Changes, Affidavit of Knowledge & Beliefs, CP Letters, etc. (we have everything covered, and if you need something more Iíll write it.)
†3.) Title 26 - The Internal Revenue Tax code.
†4.) All of the Lawsuits, legal arguments, Legal Briefs, Motions and Memorandums developed (including IRS Summons)
†5.) All of constitutional attorney Larry Becraft's legal briefs (that have been released on the internet).
†6.) The The Simple Truth About Income Tax, IRS Fraud Exposed, and Perfect Tax Avoidance book manuscripts.
†7.) Some additional interesting and useful articles.
†8.) The Employer's Notification Materials and Response Letters.
†9.) The Consultant's Notification Package.
10) The letters that have been used to open a bank account without an SSN.
11) A stock broker's version of number 10. (pre 911)
12) Two complete Powerpoint Slide Show presentations on income tax (150 + slides) - A complete tax seminar.
13) Some State tax correspondence Affidavits and letters. †(examples to use with a State's Code)
14) IRS Enrolled Agent Opinion Letters.
15) Adobe ACROBAT Reader (8.0) software
- A "MUST HAVE" TOOL ! (reads .PDF files)
To Order: SEND $100 CASH, CHECK, OR MONEY ORDER, TO:

R SAFE
TAX-FREEDOM CD-ROM
P.O. Box 7720
Arlington, VA 22207
If you need to answer any IRS letter, the single file on this CD to do that letter is worth the $100 for this disk.
If You Want To Support Our Work, or defend yourself.† YOU MUST †BUY THIS CD!
This CD disk is not an application that runs on your computer (the web site "runs"), it is a collection (library) of document templates, files, resources, etc. for you to spend a lot of time with exploring to discover everything that is included on it. This is my collection of useful documents and other "stuff", both that I created and also that have been provided to me by others. Some of it needs editing if you intend to use it for yourself, but all of it is good reading and useful learning, and I provide a contact number to reach me to discuss things to those who buy the CD from me..
PLEASE TELL AS MANY PEOPLE AS YOU CAN ABOUT THE EXISTENCE OF THIS WEB SITE !!
LIKE THE SWORD OF DAMOCLES THE TRUTH REVEALED IN THIS WEBSITE HANGS OVER THE HEAD OF THE IRS WAITING TO DROP !



HOW LONG WILL IT TAKE FOR ENOUGH MEN TO TAKE HOLD OF THIS SWORD TO COLLECTIVELY SEVER THE HEAD OF THE BEAST !



Last Update: 01/11/2008
Web Author: The Disciples of Truth, Agents of the LORD GOD
Copyright ©1997 - ALL RIGHTS RESERVED